In the next few months, our family will be making the move to Auburn, Alabama… Yep, Alabama! It's quite a change of scenery from Phoenix, Arizona, but I think we'll have a fun adventure ahead.
To all my families that have booked me the past few years, and the hundreds of children that I have photographed, along with the weddings and amazing couples… Thank You! 
What does this mean?  If you are in Arizona and want a session before we move, call or e-mail now for availability.  I limit the number of appointments per week so that each session gets the time and attention that each image and client deserves.  Remember that all sessions take place on location and the session fee is due at the time of sitting.
Are you in Auburn???  This means a fun photographer is coming your way!  Call, e-mail or stalk the blog!  See you soon!  Oh- and GO TIGERS!  http://www.burnettphotography.com/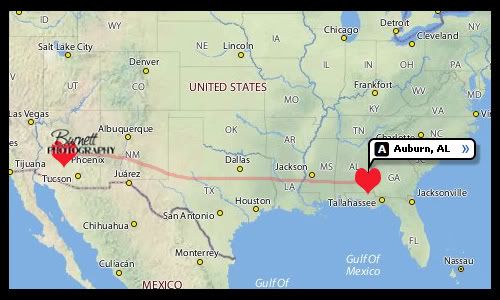 Yeah – I'm visual, those who know me are snickering because I added a map!  ;o)